Purple, the intelligent spaces company, Smarter WiFi and TP-Link have today announced their collaboration with WokGo, serving its thousands of diners across the UK with a seamless WiFi connection.
WokGo, the popular noodle bar franchise, sought the services of Purple and Smarter WiFi having realised that free connectivity was something that paying diners now expect. With no guest WiFi in place prior to Purple, WokGo required an efficient WiFi solution for customers that also captured detailed analytics about the individuals visiting and eating at their restaurants.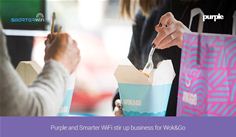 Following the refurb of a number of outlets throughout 2016, WokGo decided to introduce Purple's solution to give diners free WiFi access and supply their marketing team with a key source of CRM data.
Article source: https://www.realwire.com/releases/Purple-and-Smarter-WiFi-stir-up-business-for-WokGo